Vaswani Brentwood @ Opp. Brookefields Jn
Vaswani Group has announced the launch of their new apartment project at Thubarahalli opposite Brookefields junction. The project is a luxury project and will offer intelligent homes using new-age technologies. Vaswani Brentwood will span 3.5 Acres of land, and will offer 220 units, in a combination of 2 and 3 Bedroom apartments and penthouses, spread across four towers of Ground + 14 floors.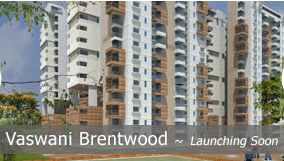 Some of the proposed Vaswani Brentwood Intelligent Features include
IP door locks accessible via any mobile phone / handheld device
Video door phone
Fire & gas leakage detection alerts on mobile phone and to security post
Motion sensor based lighting
Vaswani Brentwood Options
2,3 BHK and Penthouses ranging from 1025 sq.ft. to 4344 sq.ft
Vaswani Brentwood Location
Located at Thubarahalli opp. Brookfields Junction. Brookefields & surrounding are fast developing communities and in demand areas due to thier proximity to EPIP Zone, ITPB as well as excellent connectivity it offers through the numerous volvo buses that run in this route. The location also boasts of access to a wide variety of entertainment and shopping zones in a short distance
Vaswani Brentwood Price
Priced at Rs.4500/- per sft. The lowest configuration of a 2 BHK of about 1027 sft has a base price of approximately 49 lacs
Vaswani Brentwood Investment Plus Points
Connectivity – Public Transport accessible every few minutes from the Brookefields junction
Accessibility – Shops that address your every need just around the corner
Proximity to Offices – EPIP, ITPB & The Outer Ring Road Companies
Vaswani Brentwood Concerns
The entry road that goes towards Vibgyor School is a concern both in terms of its width and its current state
There have been complaints of High Tension wires running in this area, location and distance to the same should be checked
Water woes are common across Bangalore, however Cauvery water but may arrive soon due to its proximity to Marathahalli, please cross-check if the pipes are already laid
Nearby projects such as Keerthi Gardenia are priced at approx. 3200/- range (as of March 2012), based on this Rs. 4500/- for might be expensive even after considering the "intelligent features" and the "brand name"
Take the poll – Is Vaswani Brentwood a good investment?