Rohan Builders has announced the launch of their new project Rohan Akriti (Diligently Designed Homes). This project is located 1km off Kanakapura road. Rohan Akriti spans across 5 acres of land with 6 towers of G+13 floors consisting of 440 homes in 1, 2 and 3 BHK configurations. It also has a few 1.5 and 2.5 BHK units.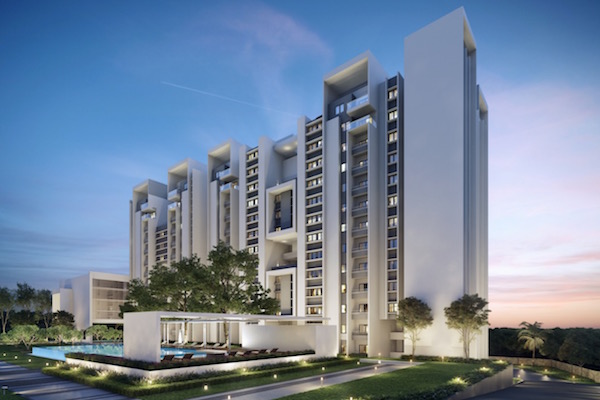 The amenities include a well-equipped 17,000 sft clubhouse, yoga and meditation gardens as well as the open lawns. There is also a large swimming pool, tennis court, cricket pitch, a children's play area, chess garden, etc. The clubhouse will house a badminton court, squash court, office space, multipurpose hall, well-equipped gymnasium, indoor games like Table tennis, pool, etc. There's also a water amphi-theatre next to the clubhouse.
The property is within easy reach of well reputed IT parks, schools, hospitals, shopping areas, and current and upcoming entertainment hubs. The area is in close proximity to Metro Cash and Carry. Major hospitals like Fortis, Jayadeva Hospital, Sagar Hospital as well as specialty clinics are all situated in and around the area. Gopalan Innovation Mall, Meenakshi Mall and Gopalan Mall (Mysore Road) are ideal for recreational hangouts. Kanakapura road also has some of the most popular educational institutions in close vicinity, such as the Valley School, Kumarans School, Delhi Public School RMS International school. Global Tech Village , Kalyani Magnum Infotech Park , Electronic City Phase I & II zone are easily accessible as well. Most importantly, the metro work is progressing rapidly on Kanakapura road, and the closest station will be less than a 10 minute walk Rohan Akriti.
Rohan Akriti Options
1 BHK : 551 – 827 SQ.FT. – Starting from Rs. 30 Lacs onwards
1.5 BHK : 664 – 670 SQ.FT. – Starting from Rs. 36 Lacs onwards
2 BHK COMPACT : 931 – 1007 SQ.FT. – Starting from Rs. 47 Lacs onwards
2 BHK REGULAR : 1087 – 1313 SQ.FT. – Rs. 55 Lacs onwards
2.5 BHK : 1249 – 1258 SQ.FT. – Rs. 64 Lacs onwards
3 BHK : 1423 – 1636 SQ.FT. – Rs. 70 Lacs onwards
The above prices are excluding taxes and registration.
Rohan Akriti Location details
1 km Off Kanakapura main road.
10 min walk from closest metro once the ongoing metro work is completed.
Banshankari bus depot which connect to other zones of Bangalore is 6.2 Kms away.
The nearest bus stand is within a reach of few minutes of walk.
Distance from MG Road to project site 15 kms or approximately 20-25 mins via metro.
The Metro cash and carry is situated 4 kms from Rohan Akriti.
The NICE ring road connecting to the major highways is at a distance of 5 kms.
Rohan Akriti Price
Base price: Rs. 4300/- per sft of chargeable area
– Floor rise from 1st Floor onwards at Rs 15 per sqft.
– PLC of rupees 100/sqft for amenity facing flats.
– Agreements within 10 days of booking.
– 15% on agreement
Initial Booking Amount
– 1 BHK – Rs. 1 Lac
– 1.5 BHK & 2 BHK – Rs. 2 Lacs
– 2.5 BHK & 3 BHK – Rs. 3 Lacs
Rohan Akriti Investment Plus Points
Kanakapura Road today is bustling with a number of development activities.
Major infrastructural developments like the NICE road (Bangalore-Mysore Infrastructure Corridor) improves connectivity to Electronic City, Bannerghatta Road and Mysore Road. The Peripheral Ring Road (PRR) connecting major highways (Hosur Road, Mysore Road, Old Madras Road and Tumkur Road) has also given a severe push to the development in this region. The Bengaluru Metrorail authority is developing the green line through South Bengaluru with several stations on Kanakapura Road. This would certainly be the differentiating factor. Besides this, we expect good growth along this road owing to abundant availability of water and easy accessibility to other parts of the city.
Kanakpura Road has very good social infrastructure, which is further improving. There are multiple reputed schools and other education institutes based there, making it one of the educational hubs of the city.
On the retail front, Mantri Developers is developing a mall in this area, which is currently under construction while the Prestige Group is planning to develop a mall in Falcon City. ISKCON is also planning to develop an entertainment park in this region.
Kanakapura Road has been one of the most sought-after locations by IT professionals in terms of choice for residences, after Bannerghatta Road. This is because of the presence of social infrastructure and easy accessibility to workplaces including Electronics City.
Overall, with new malls under construction, development of the green metro line and proposed widening of the National Highway, we expect good growth in this region over the next few years.
Rohan Akriti Project USPs
Diligently Designed Homes formulates as the primary USP of the project. Across all the units unnecessary corners, corridors or passages, and all dead spaces are eliminated. Every square inch of space is utilized to the maximum.
Eradication of wardrobe protrusion: Niches are created in the walls of some of the units into which the wardrobe can be tucked in, making the entire area utilizable minimizing wastage of space.
Value Engineering – The ducts are strategically placed so that the washrooms and utility area use a single duct which in turn helps in reducing maintenance costs due to better access to plumbing lines.
Value for Money – Larger configuration spaces for an affordable cost.
Proximity – Metro Station, IT Parks, Schools, Malls etc.
Well thought of amenities for all age groups.
~with inputs from the Marketing team at Rohan Developers