Ramky Serene Woods @ Hennur Road, Bangalore
Ramky Estates part of the Ramky Group has announced the launch of their new project in Bangalore called Ramky Serene Woods. Ramky Serene Woods located off Hennur road will offer 61 row houses.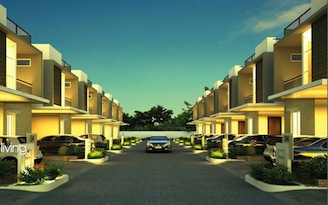 Ramky Serene Woods Options
3 BHK Row Houses from 1840 to 2240 sft
Ramky Serene Woods Location
Ramky Serene Woods is located off Hennur Main Road, at Chikkagubbi.
Landmark: 2 KM from Biozeen
View Larger Map
Ramky Serene Woods Price
As of first week of July. A limited period pre-launch price of Rs. 4050/- (valid for a few bookings)
From Sources: Price revised to 4500/- effective 8th July as approximately 20 units have been booked.
Ramky Serene Woods Investment Plus Points
The pre-launch pricing looks ok considering its a row house project and that apartments are priced around 3500/- in the locality
With 61 row houses, its neither too big nor too small and should develop into a decent community
Hennur Road is fast developing with large layouts being developed, in the recent past a lot of apartments are being launched on either side of the road
The peripheral ring road (when it becomes a reality) is expected to be approximately between 1 to 2 kms from this project
Manyata tech park is about ~8 kms
Ramky Serene Woods Concerns
The masterplan does not include a lot of greenery, the exact extent needs to measured
In pre-launch stage, status of approvals unknown
Take the poll – Is Ramky Serene Woods a good investment?